The return of web check-in
Currently, the only way to check in to lectures is to use the MyLboro mobile app, available on iOS and Android, and requiring location tracking to be enabled.
I would like to see the return of the ability to check in to lectures on the my.lboro.ac.uk website, rather than via the app, for the following reasons:

- Technical difficulties
For as long as the location-based check-in has been introduced, students have experienced problems with using it and many have turned instead to web check-in so that their recorded attendance is not affected by this.

- Social and economic barriers
With only the mobile app available as an option, all students are required to have a smartphone capable of running the app. These are expensive, and present a barrier of entry to disadvantaged students. With web check-in, students of all backgrounds are able to use public computers such as those provided in labs or in libraries.

- Supporting monopolistic practices
By requiring that all students have a device running either Apple or Google software, the university supports the monopolistic practices and accompanying abuses, past and future, of these companies against the privacy and other freedoms of the students.

- Unnecessary and invasive
The tracking information provided to the university is not needed simply to confirm whether students have attended lectures, in particular in the case of remote learning, as the app requires location to be enabled for checking in to online lectures that have no fixed location. It is an overreach of the university's responsibility to be requiring that students allow themselves to be tracked while not even being on campus.
Submitted by Michael P.
Student Leader Feedback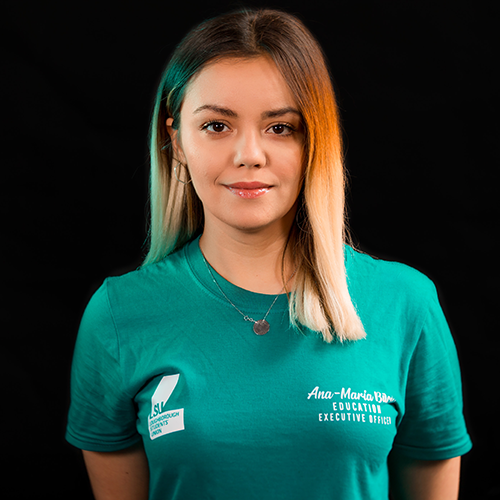 Ana-Maria Bilciu
Education Executive Officer,
Hi there! Thank you very much for your feedback – it is really important that our students do reach out to us and let us know what they would like us to work on! Before the Winter holiday, I have liaised with one of our colleagues, who has provided me with an update. I have tried to keep as much of their response as it has come through: Firstly, it is worth noting that the University does not track the students. The location services feature needs to be enabled in the app, so it can communicate with the Bluetooth beacons in the teaching spaces when students perform an attendance check-in. Validation against these beacons is a much more reliable indicator that a student was actually present at face-to-face classes than a web check-in (which at best can only prove they were on campus) which we need to satisfy UKVI, student loan companies, HESA and the University's auditors. At the moment, the attendance check-in via the my.lboro.ac.uk portal is not possible because it wants to validate against the Bluetooth beacons which cannot be done from a web browser, hence it directs the students to using the native app version. This is a limitation of the system we are using and we are exploring options with the supplier to see it this might be possible to do this in the future again. I hope this update has provided you with the certainty that your valuable feedback has been raised with the appropriate individuals, and I am sorry if this is not the answer that you were looking for. If you would like me to further investigate this, please do not hesitate to comment below, and I shall endeavour to reach out to my colleagues again. Once again, thank you very much for submitting this!