Hello! I'm Matt, your 2020-21 President of Loughborough Students' Union. This is my 5 th year at Loughborough, having joined Falk Egg as a Freshers way back in 2015 to study Geography. I first got involved with LSU as a volunteer with Nightline in my first year. I then became its Chair for two years during my final year, as well as whilst studying my Masters here. Alongside this I also worked as a member of student staff in the Union, working as a First Aider on nights out, as well as a driver for our Nightbus service.
Last year I served as Welfare & Diversity Executive Officer, after being elected in the 2019 Exec Elections. This involved overseeing the work of our nine welfare, minority, and liberation groups, as well as being the lead student representative on equality, diversity, and inclusion-related matters at both the Union and the University.
Having enjoyed my time so much on Exec last year, and as a passionate champion of student representation and all things LSU, I ran to be President in the 2020 elections, and here I am – your President!
What do I do?
As your President I oversee the work of the whole Executive Team, comprising our 5 Executive Officers and 6 Section Chairs. I am the main point of contact for the University and also work with local stakeholders in Loughborough town, as well as our national partners. I manage alumni relations and, along with the Executive Officers, help deliver on the Union's 5-year organisational strategy. As the lead Officer at LSU feel free to get in contact for anything Union-related if you're not sure where to start!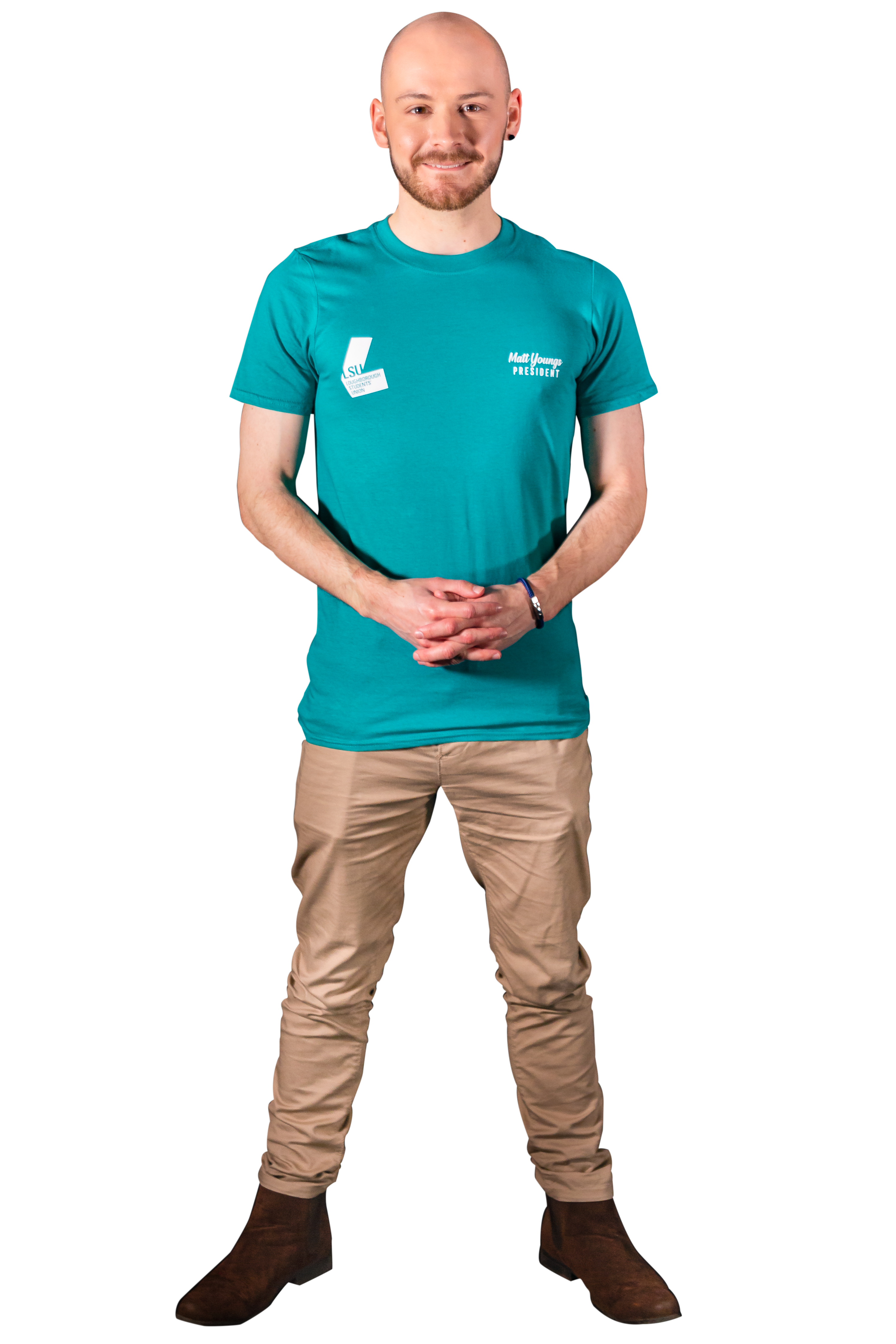 My Manifesto
My vision for year at LSU includes the following three objectives:
Increasing Exec accountability including through the introduction of a regular, audience-led 'Exec Forum' that will allow you to challenge and question the work of the Executive.
Reviewing our Venue operations, including Security usage, to ensure LSU is an accessible and welcoming organisation day and night. This also includes championing and updating our student staff training and support.
Launching a joint initiative between Loughborough Students' Union and Loughborough University to tackle social isolation and vulnerability for students in halls and the local community.
My Human Side
When I'm not living and breathing all things LSU you can find me hitting the streets in my trainers as I am a keen runner. If you spot me around Loughborough give me a wave! I'm also a dab hand in the kitchen and can cook up a mean roast dinner!
Been there done that advice
As some final words of wisdom – whether you are joining the #LboroFamily this year or returning to it, don't feel pressurised to find your family within the first few days on campus. It took me 2 years to find my bubble, but once I did it was the best part of my Loughborough experience! I wish you all the very best for your time at Loughborough, and be sure to say hello if you spot me around on campus!