Alex Marlowe
Welfare and Diversity Executive Officer
I started my Loughborough journey as weird little Fresher in Harry French. I loved Freshers because I got to dress up, and the punch parties just happened to be there too. No surprise as I was a Drama student with a passion for LGBT+ activism, and that is how I got into Welfare and Diversity.  Since my first year I have been involved as a volunteer, sub-committee member, Chair and now finally, Executive Officer! The community spirit, mutual bolstering of each other and that incomparable 'Welfare way' had me hooked from day one, and now I am determined to foster that attitude and represent students in all Welfare and Diversity matters, all over campus.
What do I do?
As the Welfare & Diversity Executive Officer, I oversee the work of the 9 associations that make up Welfare and Diversity. No matter where you are in your university or college journey, Welfare and Diversity is here to support you and ensure you feel part of the Loughborough family. There are so many different opportunities in the Section you will always be able to find something you are passionate about!
Oh and another thing, I'm also LSU's lead on mental health, wellbeing, inclusivity and any other related topic or issue affecting students.  Because of this, Welfare and Diversity is always here for you at Loughborough, even if you don't know it. I look forward to welcoming you as you find your place here at Loughborough!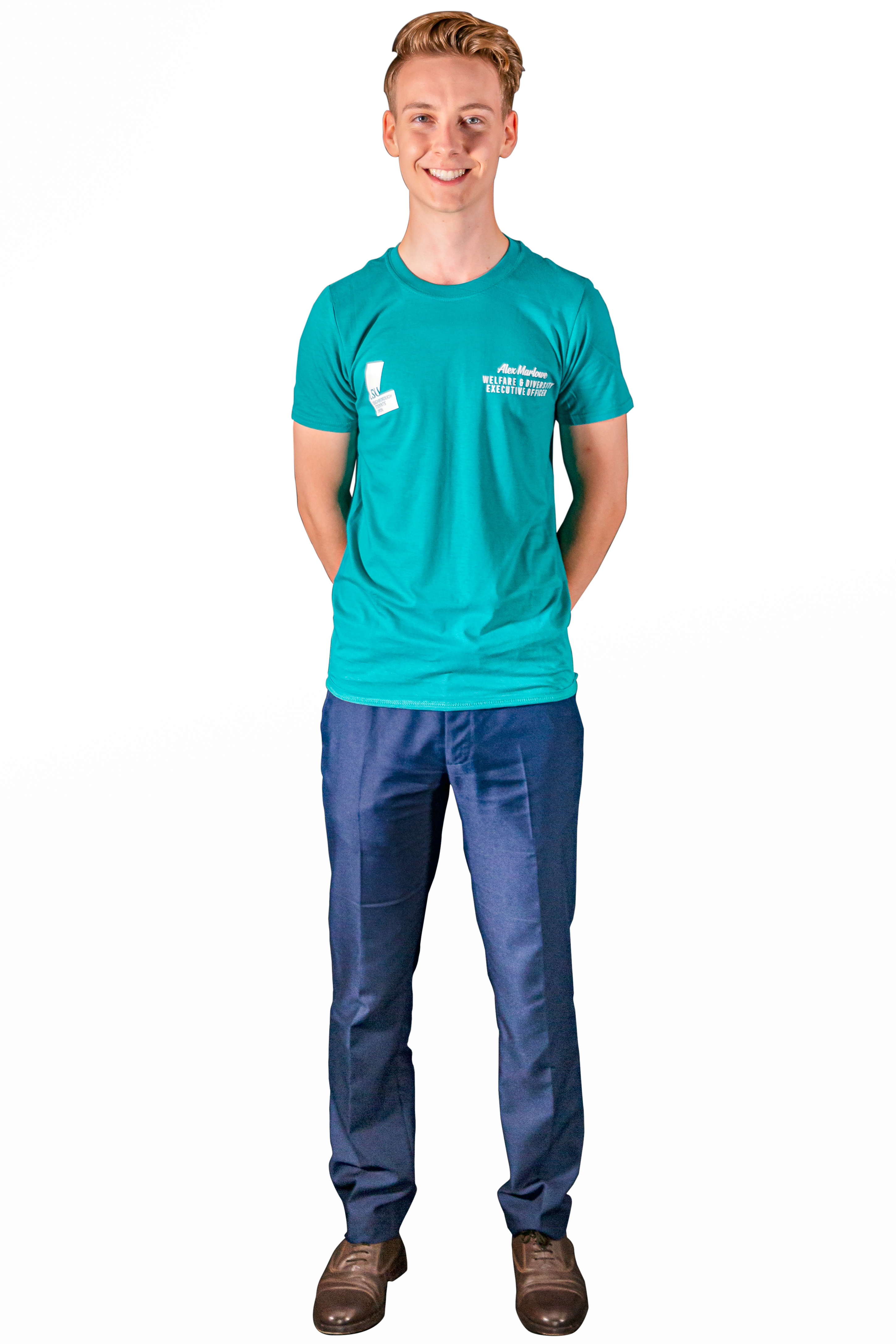 My Manifesto
I want to make sure that LSU is fully representative, inclusive and supportive of every Loughborough student. My manifesto points are:
Postgraduate Welfare and Diversity Officer
A dedicated role to represent an often overlooked group on campus, Postgraduate Taught students and Postgraduate Researchers. 
Wellbeing and Inclusivity Training for LSU Staff
Whether you're on a night out, buying a cup of coffee, or asking for directions at Reception, I want to make sure all LSU staff are both passionate and informed about including all members of the Lboro Family.
Out-of-Hours Student Support Services
There are no advisory support services out-of-hours on campus. I will work with the university to develop a service which can offer this element of support for you, the students.
My Human Side
Apart from representation, advocacy and all that other good Welfare and Diversity stuff, I love performing (shock!) whether that's as myself, acting, singing or dancing… or you can occasionally see me bring out my drag persona: Lady Dioxide. But she's pretty scary so count yourself lucky if you don't meet her!
I count myself as calm, welcoming, friendly and though my cups of tea are sometimes considered far too milky, I like to think I make up for that in conversation!
So please feel free to come up to me and have a chat about anything. No matter the topic, who you are, where you come from, I would love to talk with you and perhaps make you one of my milky teas!
Been there done that advice
Ooh, I'm being asked for advice? Well, I would say firstly to look around and realise what an amazing place Loughborough is. Not just the pretty campus or the amazing facilities, but the opportunities you're afforded here, the support you can access and the spirit that is just different to any other uni.
Make the most of this and explore any interests, hobbies, develop a business idea, think about your next steps or just find a community to sit back and enjoy the ride with!
And please don't feel like if you don't do things in the first two weeks you've missed the boat. Nobody is making notes of your movements, if you want to do something at any point in your journey, just have a go! What do you have to lose?